The stainless steel, gas-fired Raptor is our first fire tube design for natural or LP gas offering superior efficiency and performance with up to 96% AFUE. The boiler is available in five sizes – 85, 110, 155, 205, and 270 MBH.  A 155-MBH combi model is also available featuring a thermostatic mixing valve and brazed plate heat exchanger. The Raptor and Raptor Combi offer home heating and optional domestic hot water built on world-class engineering.
For larger sizes in the Raptor line see the Raptor-X.
All Raptors include a user-friendly touch screen interface, 10:1 turndown ratio and an outdoor reset function to ensure top performance in response to demand and outdoor temperature changes.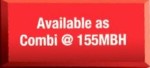 Compatible Accessory
Sage Zone Control Circulator Panel
As the key to making a condensing boiler actually condense, the Sage Zone Control is an innovative product that lowers system operating temperatures and raises efficiency by constantly analyzing zone demand and adjusting boiler output accordingly. This panel installs quickly while saving fuel and protecting the boiler. Learn more >>