The Kingston (KSZ) Series boiler is an installer-ready, residential, cast-iron, oil-fired, steam boiler. The Kingston is designed for installation with a standard chimney. The Kingston is available in heating capacities from 79 to 235 MBH. This boiler is available in a semi-packaged 'Shorty' version. The 'Shorty' is shipped with the burner and controls separate from the boiler.
Options on the KSZ series include a domestic coil and your choice of three different oil burners: Beckett (standard), Riello or Carlin. Features of the KSZ series include a wet-base heat exchanger design, cast-iron burner swing door, a 3-prong quick disconnect for easy service and a barometric damper. Some models of the KSZ are ENERGY STAR® qualified. See the Product Ratings tab for details.
Optional Equipment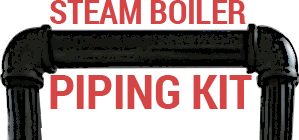 The Kingston KSZ Series boiler is compatible with our Steam Boiler Piping Kit, a more convenient way to pipe steam boilers. For more information on the Steam Boiler Piping Kit, visit the Steam Boiler Piping Kit page.