The Freeport 2 FWZ Series boiler is a 3-pass cast-iron, oil-fired, hot water boiler. The Freeport 2 FWZ is designed for installation with a standard chimney. This boiler is available in heating capacities from 73 to 197 MBH and all models of the Freeport 2 FWZ boiler are ENERGY STAR® qualified. See the product ratings tab for more details. The Freeport 2 FWZ features a swing door with burner disconnect plug for easy access to all heating surfaces on the front of the boiler. A Beckett AFG burner comes standard, and a Riello burner is optional on most sizes. The burners are packaged separately for easier handling. The standard control features a simple thermal purge function for increased efficiency, as well as second zone operations available for heat and domestic hot water using an indirect water heater like the Mega-Stor®. An optional control console is easily installed in the field, allowing for additional functions including outdoor reset, low water cut-off (manual or auto-reset), second limit (manual or auto-reset), and a touch screen display for simple adjustments and diagnostics. An optional 120V low water cut-off kit is also available.
Optional Equipment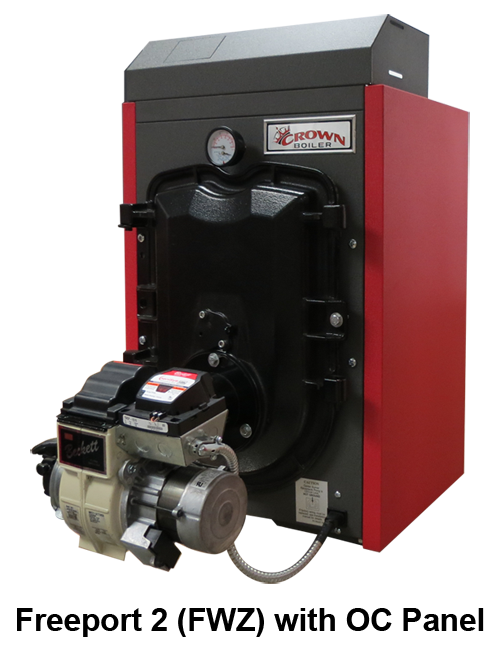 The Freeport 2 FWZ  is compatible with the OC Panel system, designed to simplify the installation, operation, and service of the entire boiler system and save energy. The OC Panel has three plug in OC Panel cards to control different boiler functions – Outdoor Air Reset, Low Water Cutoff, and Hi Limit Reset. The OC Panel sits on top of the FWZ, and comes with a cover that makes it look like a part of the boiler. For more information on the OC Panel and plug in cards, visit the OC Panel page.

The Hydrolevel HydroStat 3250 control provides temperature limit and low water cutoff, while allowing for outdoor reset control with the addition of an Outdoor Sensor Kit.