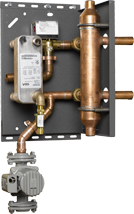 The Bimini Buddy is designed to be installed with any wall-mounted Bimini Boiler and includes all near boiler piping needed for good hydraulic separation and air elimination in a compact, factory assembled package. The Bimini Buddy is available in three models. The BB100H is for heat only applications. The BB100I is for the connection of a Bimini boiler to a heating system and an indirect water heater, such as the Mega-Stor®. The BB100C is a combi unit that includes a plate heat exchanger and flow switch for domestic hot water production in tight places. For more information on the Bimini Buddy, including product specifications, click here.

The PPs Flex Vent is an elegant, efficient concentric venting system for use with Bimini high efficiency residential boilers. Designed around a flexible polypropylene chimney liner, the PPs Flex Vent system turns a home's chimney into a condensing gas boiler venting system. The PPs Flex Vent allows air to flow down the chimney, while pushing exhaust gas out through the corrugated, flexible polypropylene liner. For more information on the PPs Flex Vent, including product specifications, click here to download the literature. You can also view a video of the PPs Flex Vent in action by clicking here.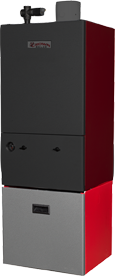 The wall-hung Crown Boiler Bimini residential boiler is also available with an optional Floor Mounting Pedestal Kit for when wall mounting is not feasible. This will allow the Bimini boiler to be installed on non-carpeted, combustible surfaces. For more information on Floor Mounting Pedestal Kit, contact your nearest Crown Boiler dealer.