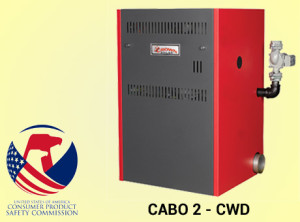 Subject:  Crown Boiler Company CWD Series Boilers Recalled Due to Carbon Monoxide Hazard
Recall date:  October 2013
CPSC Recall number: 13 –TBD
Manufacturer:  Crown Boiler Company
Manufactured in:  United States
Sold at:  Plumbing and heating wholesale distributors nationwide from May, 2005 through July 1, 2013
Name of product: Crown Boiler CWD Series gas fired hot water boilers
Hazard: The Air Pressure Switch can fail to shut down the burners in the event that there is a blockage in the vent system and allow the boiler to emit excessive amounts of carbon monoxide, posing a CO poisoning hazard to the consumer.
Incidents/injuries – None reported
Description:  This recall involves Crown Boiler CWD series cast iron hot water boilers that use natural gas or liquid petroleum to heat water in home base board, floor or radiator heating systems. The boilers are red and gray, about 37 inches tall, about 23 inches deep and range from about 16 to 42 inches wide. The Crown Boiler logo is on the front of the boiler (Figure 1). Recalled boilers have model numbers that begin with CWD and were manufactured between May 1, 2005 and July 1, 2013. The model number and the manufacturing date are located on a white rating label located on the upper right side of the boiler (Figure 2). The manufacturing date appears under "Series" in in the MM/DD/YYYY format or as a two-letter code. Recalled models have dates before 7/1/13 or one of the following two-letter codes:
EB, FB, GB, HB, IB, JB, KB, LB
AC, BC, CC, DC, EC, FC, GC, HC, IC, JC, KC, LC
AD, BD, CD, DD, ED, FD, GD, HD, ID, JD, KD, LD
AE, BE, CE, DE, EE, FE, GE, HE, IE, JE, KE, LE
AF, BF, CF, DF, EF, FF, GF, HF, IF, JF, KF, LF
AG, BG, CG, DG, EG, FG, GG, HG, IG, JG, KG, LG
AH, BH, CH, DH, EH, FH, GH, HH, IH, JH, KH, LH
AI, BI, CI, DI, EI, FI, GI, HI, II, JI, KI, LI
AJ, BJ, CJ, DJ, EJ, FJ
 List of models:
MODEL
INPUT
(BTU/HR)
FUEL TYPE
CWD060EN
60,000
Natural Gas
CWD083EN
82,500
Natural Gas
CWD110EN
110,000
Natural Gas
CWD138EN
137,500
Natural Gas
CWD165EN
165,000
Natural Gas
CWD193EN
192,500
Natural Gas
CWD220EN
220,000
Natural Gas
CWD245EN
245,000
Natural Gas
CWD060EL
60,000
LP
CWD083EL
82,500
LP
CWD110EL
110,000
LP
CWD138EL
137,500
LP
CWD165EL
165,000
LP
CWD193EL
192,500
LP
CWD220EL
220,000
LP
CWD245EL
245,000
LP
Remedy:
Consumers should immediately contact the installer or distributor from whom they purchased the boiler. Consumers may also submit their repair request by clicking here.  For any additional questions please call Crown Boiler's toll-free recall hotline at 855-688-0776 from 8 a.m. to 5 p.m., EST, Monday through Friday.  You may also reach Crown by email at cap@crownboiler.com.
Consumers are reminded to install a CO alarm outside all sleeping areas, or make sure their current CO alarms have working batteries.